The US Time's Convert Tour starts September 20 and will reach 17 cities!
As noted on Deborah's website: almost all of these stores (except for Barnes & Noble) will accept orders for signed books from people not at the signing. All you have to do is call the store, give them your payment information, and they will ship the book after I visit the store. It's a great way to support independent bookstores!
Deborah will be at Book Passage, in Corte Madera (San Francisco Bay Area), 51 Tamal Vista Blvd. (map) on October 9, 7:00 PM.
Join us at 3:00 PM for tea, coffee, or early dinner at the nearby Philz Coffee, 403 Corte Madera Town Center, Corte Madera (map).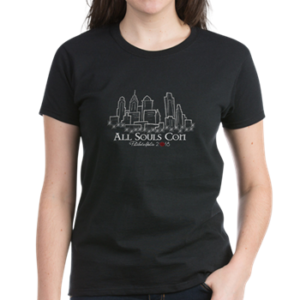 How to find us?
Look for the black All Souls Con t-shirts. 
Please RSVP by filling out the form below.
.
Looking forward to meeting everyone!
US Tour Events
Thursday, September 20
Boston, MA
First Parish Church with Harvard Bookstore – 7PM http://www.harvard.com/event/deborah_harkness/
Friday, September 21
Decatur, GA
Georgia Center for the Book – 7PM
http://www.georgiacenterforthebook.org/Events/all.php
Saturday, September 22
St. Louis, MO
St. Louis County Public Library – 7PM https://www.slcl.org/content/upcoming-authors
Monday, September 24
New York, NY
Barnes & Noble Upper West Side – 7PM
https://stores.barnesandnoble.com/event/9780061946482-0
Tuesday, September 25
Washington, DC
The Wharf with Politics & Prose – 7PM https://www.politics-prose.com/…/deborah-harkness-times-con…
Wednesday, September 26
Nashville, TN
Parnassus Books – 7PM https://www.eventbrite.com/e/salon615-with-deborah-harkness…
Monday, October 1
Philadelphia, PA
Philadelphia Free Library – 7PM
https://libwww.freelibrary.org/prog…/authorevents/index.cfm…
Tuesday, October 2
Edina, MN
Barnes & Noble Edina – 7PM
https://stores.barnesandnoble.com/store/3301…
Wednesday, October 3
Kansas City, MO
Woodneath Library Center with Rainy Day Books – 7PM
https://www.rainydaybooks.com/DeborahHarkness2018
Thursday, October 4
Denver, CO
Tattered Cover – 7PM
https://www.tatteredcover.com/events
Monday, October 8
Pasadena, CA
Vroman's – 7PM
https://www.vromansbookstore.com/event/2018-09
Tuesday, October 9
Corte Madera, CA
Book Passage – 7PM
https://www.bookpassage.com/corte-madera-events
Wednesday, October 10
Portland, OR
Powell's City of Books – 7:30PM
Thursday, October 11
La Jolla, CA
La Jolla Library with Warwick's – 7PM https://www.warwicks.com/event/deborah-harkness-2018
Monday, October 15
Coral Gables, FL
Books & Books – 7PM
https://booksandbooks.com/event/deborah-harkness/
Tuesday, October 16
Austin, TX
Book People – 7PM
https://www.bookpeople.com/e…/deborah-harkness-times-convert
Wednesday, October 17
Scottsdale, AZ
Poisoned Pen – 7PM
http://www.poisonedpenevents.com/