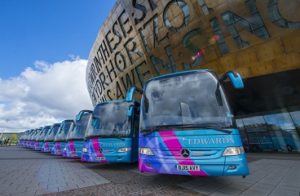 Seats on the one-way bus transfer from Cardiff to Oxford are sold out. However, we'd be happy to rent an additional bus if there's enough demand.
Please email info@allsoulscon.org if you're interested.
Oxford tours are not included and are your responsibility.
The Oxford bus transfer requires a separate ticket item offered when you purchase your Con pass, at £19 per attendee / £25 for friends and family traveling with you.
Bus transfer provided by Edwards Coached Ltd.